Berkeley, California: A Road Cycling Mecca
Craig Fellers, January 23, 2015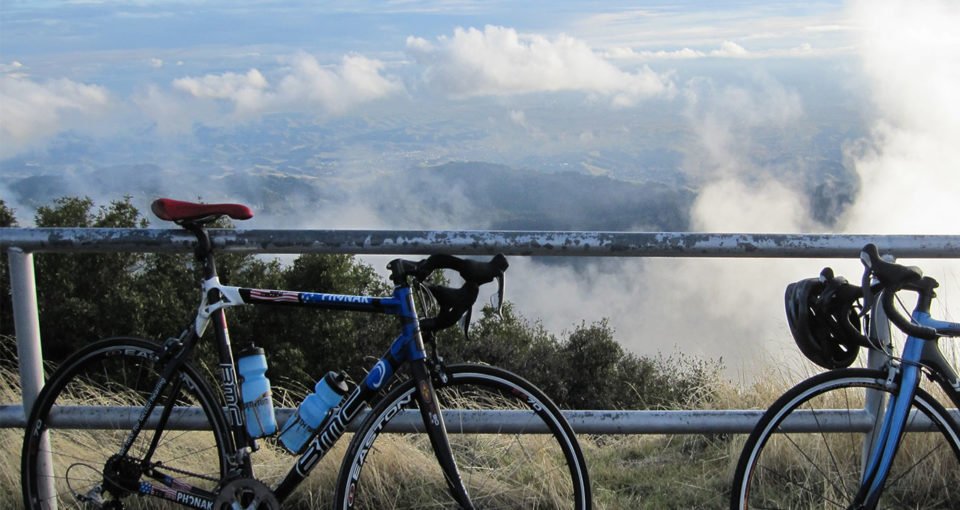 If you were to map out all the places I have ever lived, you wouldn't need a big map.  An astute observer, however, would also realize that it also has a strong correlation with a list of premiere cycling communities on the West Coast of the United States.
It is not that I do not enjoy traveling; quite to the contrary, I make sure to leave the country at least once every year and have traveled all over the world.  It just makes sense to end these trips in the golden hills of Marin County: birthplace of the mountain bike, the beachfront bike paths of Santa Barbara, or the gorgeous mountains of Portland which are all places that I have called home.
The one location that might seem out of place on my small map of world-famous Cycling Meccas is Berkeley/Oakland where I currently lived for a few years around studies.  Before I moved there my only associations with Berkeley and Oakland were Hippies and Homicides, which I soon realised are not prominent features of the cycling paradise in the hills to the east of the city area.
More broadly know as the 'East Bay', the Berkeley and Oakland hills are hands down the best place I have ever ventured on two wheels.  Okay, maybe Switzerland might have had the most stunning roads, but I can't stand fondue, so we'll call it a wash.
Hopefully this will give you the motivation to pack your bag and a bike and head to the East Bay for some of the best cycling California has to offer.
Now it's Saturday morning and you drink a liter of coffee at Cafe Milano, suit up in full spandex, ratchet down your shoes, and dig out your favorite pair of sunglasses to match the optimism of the occasion.  It is time to ride, but where do you go?
Essentially there are two ways to start any ride from downtown area (University), up the hill to one ridge, or up the hill to another. Your first option is to take Euclid Avenue from the University campus up the hill and a shortish climb that takes fifteen minutes. Tunnel Road is a more gradual climb taking closer to 20 min.  Both feature breathtakingviews of San Francisco, the Golden Gate Bridge and Marin County.  Tunnel Road turns into Skyline Boulevard without you knowing it when you cross into Oakland.
Both of these routes spit you out on Grizzly Peak Boulevard.  You are now ready to start your epic cycling adventure. From here, you just can't go wrong.  Unfortunately I can't be there to show you around, but the Cal Cycling website has an excellent reference in the form of a 'step by step' set of  'Classic rides' that depart and return to campus.
The thing about cycling in Berkeley and Oakland is that there is not just one or two "routes."  If you look at a map of the East Bay, it is speckled with small regional parks, and you weave between beautiful Redwood forests, open grasslands, pristine reservoirs, and small cities which are scattered throughout the area (all with BART stations in case you get overly ambitious and find yourself miles away from home and out of food).  There are very few cars on most of the roads, and those that are there on the roads usually are quite courteous.  All the cities you will traverse have adequate bike lanes and are used to bicycle commuters.  Most of the rides do involve extensive climbing, (so prepare to be a bad ass by the time you leave) but with all the "BART Bailouts" you are never far from home.
Group riding
So you think you are a pretty top notch cyclist? You are the fastest cyclist on Team Rainy Day back in London?  There are a couple of weekly elite group rides that welcome newcomers and feature 30 to 50 cyclists where you can come flex your muscles.  It is not uncommon to see professional cyclists from Garmin/Cervelo, Yahoo, or Cal Giant who will come set such a blistering pace that will absolutely rip your legs off even when sitting 5 wheels back in the sweet spot of the draft.
The first one of these group rides, appropriately called 'House Of Pain'  leaves from Danville Boulevard at Rudgear Road on  Saturday at 9am sharp. From that intersection the ride slowly picks up people until you get to the Peat's Coffee in downtown Danville where the ride officially starts.  The ride consists of a beautiful full throttle 50 mile loop, unless you are one of the brave who peel off near the end to track for the 4000 feet up to the top of Mount Diablo.  This epic climb will put you in place for the sexiest descent in the East bay, 20 min of heart-pumping, cheek flapping, absolute lunacy hurling through beautifully banked turns with a perfect road surface that adds a professional finish to the climb.
You might want to save Mount Diablo for another day; at this point in our story, we are just finishing 'House Of Pain' and your legs are screaming even if your mind is telling you to hit the climb.  House is a well organised ride featuring three specific sprint points that are taken very seriously, rotating paceline hammer sessions and a neutral roll through the town of Livermore.  And ladies, don't be intimidated, there are always at least a few women who would be more than happy to hammer with you.  As we say in California, This ride is "Hella Sick!"  It goes most of the year, but will be sparsely attended in the winter.
The second group ride option is 'Port Ride' (of Oakland), affectionately known as 'The POO'. This ride takes place under the lights of the Oakland shipping port Tuesday at 7pm.  It consists of laps around a 1.5 mile circuit where you can practice riding shoulder to shoulder with some of the best riders in the area.  Although it is not an organized race, expect a series of attacks from just about anybody in the group.  If you stay near the front, countering moves and taking pulls, your will be exhausted by the time the ride slowly dissipates around 8pm and cyclists filter back into the streets of Oakland.  Port Ride is a great way to get comfortable in a crit-style setting because if/when you get "Popped" off the back, you can catch back on in 5 minutes when the peloton comes back through. Every cloud.
For actual races in the area such as the Berkeley Critirium, Oakland Critirium, Berkeley Time Trial, Wente Road Race, Mt. Diablo Hill Climb and many more visit NCNCA.ORG.  There is also a beginner version of Port Ride known as "Port Light" which is on the same course but starts every Wednesday at 7pm.  Both rides go year round, but are canceled by rain due to slippery rail road track crossings.
Getting there
So rather than rant on about how awesome Berkeley riding is, I'll try to give some good information on how you can get out here and enjoy it.  First, you have to get here, but that's pretty easy since the area is serviced by three international airports all within 25 miles of us.  In order of convenience there is Oakland (OAK), San Francisco (SFO) and San Jose (SJC) the first two of which are connected to the Bay Area Rapid Transit (BART) that links San Francisco and the East Bay.  BART welcomes bikes on most trains and can be used as a great tool for extending the reach of one way rides.
Accommodation
As for accommodation, hotels are a bit expensive in Berkeley but food is cheap so your budget should even out. Look to stay in Berkeley, preferably nearer the University and avoid Oakland, where some areas aren't favourable to the curious tourist.
Spares
The best bike shop in town is Mike's Bikes in Downtown Berkeley.  They will get you set up with anything from an inner tube to a tune up to a great deal on a new bike all at a decent price.
Craig Fellers is based out of Santa Cruz, CA where he is the owner and optometrist at Midtown Optometry.