Bangkok City Guide
The heaving traffic of Bangkok signposts the pulse of a growing country, with the swelling ranks of the middle-class helping to fuel a vibrant city. Traffic may been continuous and only moderately appeased by clunky overpasses, but green infrastructure is nearby and no shortage of diverse cuisine as rewards for runs, rides and swims. A new government for 2023 signposts that change is the air. Sorting air pollution is high on the agenda, as well as more walkable city and let's hope better cycle lanes too.
To make the most of this Bangkok city guide for endurance athletes, note a few patterns and features. Facilities are broken into categories according to their running, cycling or swimming focus, with a separate section highlighting quality gym facilities in Bangkok. Finally, the Sleeping & Eating section towards the end of the guide provides an insight into good places for sleeping and fuelling during your time in Bangkok. A full directory of Google Map-linked addresses are found in the Directory section.
Orientation & Logistics
The historic part of Bangkok hugs the Chao Phraya river, orientating visitors who will generally spent their time on the Eastern bank. The old city and famous temples occupy the Banglamphu neighbourhood, with business districts located to to the South and East Siam, Silom, Sukhumvit and finally Sathon which marks the southern edge of this guide.
Siam is the heart of modern Bangkok and a shopping HQ, with several large malls such as Siam Paragon, CentralWorld and MBK Center. Silom is a residential and commercial district, with a mix of high-rise buildings, traditional Thai homes and the useful Saphan Taksin Skytrain Station. Sukhumvit marks an eastern edge for this city guide, north of Sathon with a mix of residential and commercial. It is home to the Saphan Taksin Skytrain Station, which provides easy access to other parts of the city.
Navigating Bangkok by metro requires patience for the first timers, but is an improvement on the sluggish street level transport options via taxi and bus. There are multiple payment systems, so get hold of a Rabbit card at a local store and top this up during your trip (it works like an Oyster in London). Note two systems:
The BTS Skytrain (Bangkok Mass Transit System)

is an elevated rapid transit system that runs through the heart of 

Bangkok. The Sukhumvit line (Light Green Line) follows an East-West road by the same name. The Silom line is Dark Green on the map, intersecting with the Sukhumvit Line at Siam.

The MRT is a subway system that runs through the city center and out to the suburbs. Only the blue line will be useful to tourists – it has an awkward connection with the BTS. Allow an extra 10 minutes when navigating this for the first time.
Bangkok's weather is warm-hot throughout the year, with temperatures throughout the year at 30°C  / 85°F. May to early October are the peak humidity months. Sunrise is consistent throughout the year ranging from 4:30am to 8pm on longest days, and 5:30am to 7:15pm on shortest around December.
Running
The completion of Benchakitti Forest Park in Bangkok's city centre marks the opening of a remarkable green lung for runners and walkers, liberally open from 5am to 8pm throughout the week. Over 2km of overpass create dimension for the space, with ground-level tarmac strips clearly marked for runners and cyclists. Paths are often shaded and well beyond the motorised traffic and pollution. There are no hills to speak of in Bangkok, so traversing the raised footpaths and their inclines is your best shot at hill intervals. 
Benchakitti is the more advanced version of Lumpini Park, a slightly smaller and older landscaped patch connected with Benchakitti via a 500m pedestrianised overpass. Lumpini has an outdoor gym in its north-east corner, and provides a more continuous tarmac loop for uninterrupted intervals (the road is wider, but really Benchakitti is more than adequate). Opening hours for Lumpini are from 4:30am to 9pm daily.
The celebrated parks of Bangkok aren't matched with athletics track access or quality. There is a 400m athletics track at the north end of the Chulalongkorn Sports complex next to Suphachalasai National Stadium – Thephasadin Stadium Athletics Track. They're open 5am to 8am, and again at 5pm to 8pm every day. Despite the track's poor condition, it's a good place to find other runners and explore the major sports quarter of Bangkok.
Cycling
Road cycling is increasing in popularity in Bangkok, but for visitors the most reliable option is to travel out of town to the airport to use the Sky Lane (also referred to as Happy & Healthy Bike Lane and Cycle Track Suvarnabhumi Airport).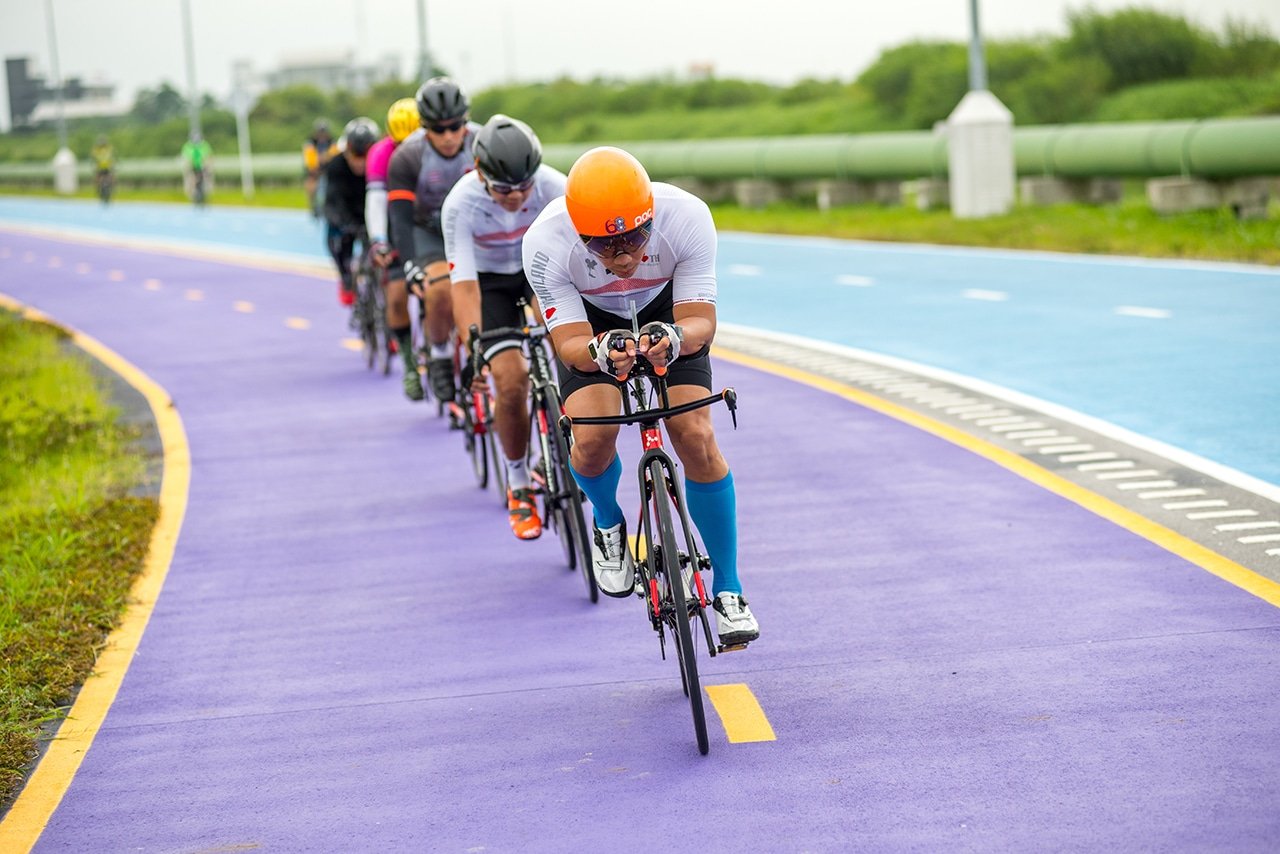 This 23km Blue loop opened in 2015 to offer cyclings a safe place to cycle beyond city traffic – motor vehicles aren't allowed. This was matched later by a purple route, widening the path and offering a more dynamic option for faster road cyclists and groups. Road bike rental is available on site with a 4-hour minimum timeframe, costing $25 for a carbon road bike.
There are several cycling collectives in Bangkok – GOTP, Cafe Riders Thailand (Instagram) and Concept Speed who host group rides. Concept Speed have a store in HuaMak Sub-District. Group rides start at 6:40am and head to Ravin Home Cafe Nakhon Nayok (North-East) and Ban Bang Phra Chonburi (South-East) and Thailand is one start point, 40km to the south of Bangkok.
Swimming
The sports complex has a 50m outdoor swimming pool – Wisutarom Swimming Pool, conveniently located next to BTS National Stadium stop (use Exit 2). While not pristine and only open from 3pm to 7:30pm during weekdays (9am on weekends), the facility has wide lanes and is a bankable venue for swimming. Wisutarom Swimming Pool's reception don't take change so bring with you 200 Baht in a note – the price for a swim was 140 Baht [January 2023]. There are padlock lockers on site, and you can also keep your belongings by the pool. 
Open water swimming can be found 20 minutes out of town at Taco Lake (Facebook). Day access is provided for 300 Bht, and opening hours are 9am to 5:30pm. Make sure you bring a swimbuoy with you – these are mandatory.
Gym
Located on the north edge of Sathon, The Cascade Club have short-term gym membership options. The air-conditioned gym is a useful amenity when visiting in the hotter months, with a high-quality weights setups and treadmills to cover some workouts. They have a swimming pool but more for leisure laps – it's less than 20m long.
For weaving a bodyweight workout into a run, the north-east corner of Lumpini Park has an outdoor gym with pull-up bars and some inverted benches for sits-ups. Dips are also catered for but there are no boxes for box jumps.
Sleeping & Eating
Specialty coffee shops are ample in Bangkok. In Silom, first visit Rocket Coffeebar S.12. Just off Sathon Road is Roots, a spacious and airy cafe that has liberal opening hours – 7am to 7pm, each day of the week. They are also stations at Thong Lor (Google Maps). Working east within Sukhumvit, note PAGA, Kaizen and Kohi Roastery.
For comfort food in a refined settings, eat at Café Craft which is located in the courtyard of the CHANINTR compound in Thonglor. Other easy and healthy options are Supanniga Eating Room who serve traditional dishes in an affordable menu across three venues including Thonglor and Sathorn. For something unique, visit Michelin-starred Jay Jai who serve up a shrimp wonton noodle dish for $2 (their rosette isn't visible, so note their precise location here, and view their storefront here).
Other top restaurants include Err Rustic Thai, Mott 32 which is Hong Kong-themed andMichelin-rated Le Du in Silom who serve a season, 4-part or 6-part tasting menus during evenings (only). 
The bedrooms at luxury hotel Sukhothai nudge north of $300 so aren't our recommendation for Bangkok, but their breakfast is well worth making – also saunter through their palatial grounds.
As a reward, speakeasy Sugar Ray, You've Just Been Poisoned (Facebook) is the venue to target – located east of Benchakitti by half a mile.
The Standard opened a 155-bedroom hotel in Bangkok in May 2022, its first hotel in Asia and an ideal location for navigating the trending neighbourhoods of the city. The hotel occupies the lower 18 Floors of the King Power Mahanakhon Building. You're less than a mile south of Lumpini and Benchakitti, and have good transport options as well as in-house dining (Ojo, Mott, Grill).
Directory