Babylonstoren, Western Cape, South Africa
Will Ross, March 5, 2018
The heart of South Africa's wine country has no shortage of delightful Cape Dutch architecture, with restoration and tasteful conversions making for a quintessential wine and gastronomic break. Yet no property has tried to reach back to the late-17th century, trawl through its architectural history and drop in a new episode like Babylonstoren. The patch of earth that used to form a trading post for wine and wheat farmers 40 miles from Cape Town is now the staggering hospitality and horticultural project of Karen Roos, former editor of South Africa's Elle Decoration.
The novel introductions at Babylonstoren started after Roos and husband Koos Bekker purchased the property in 2007, hinging around the ambitious introduction of 3.5 hectares of gardens and water canals, now overflowing with fruits, vegetables and herbs. An extensive growing area entitles Babylonstoren for the most laudable farm-to-fork status, suppling three on-site restaurants and several small stores, so setting the property aside from its many other impressive Cape Dutch neighbours.
Babel Restaurant is Babylonstoren's signature restaurant, employing the farm-to-fork philosophy throughout the day. Omnivores will appreciate the eclectic spread which includes locally smoked and dried biltong and hams, and might also note that Babel is located in a former cowshed.
An entirely different dining experience is offered a few hundred metres from Babel at The Greenhouse Restaurant. As you would imagine, the dining area is fronted on one side by a vaulted glasshouse, home to a small collection of chairs and tables as well as Babylonstoren's more exotic crops. Booming old oaks shade the courtyard and a small menu, with orders brought to visitors in delightful crates in a casual, mix-it-yourself arrangement.
The third dining option at Babylonstoren can be found at the Italian-inspired, three-course menu served in The Bakery, open on Wednesday and Friday evenings from 7pm. The Bakery is located among the small producing areas of the property, so use a visit to browse through the cluster of stores and preparation areas, edible supplies that have also found their way to the world of e-commerce for Babylonstoren's dislocated fans.
Beyond the gardens and Babylonstoren's numerous serving areas, a few livestock roam the estate, gifted with a celestial home that is no doubt the envy of their relatives. Two South African chicken breeds are on the farm – the Potchefstroom Koekoek and the Boschvelder, the former sharing a coop alongside the farm's resident ducks. The Boschvelders find their digs in the historical fowlhouse where they bunk up alongside the pigeons. As for stats: egg production starts at 24 weeks and hens lay up to four eggs per week. During the warm summer months, egg production is at its highest, with fresh eggs collected each morning. Meanwhile roughly Pekin ducks pay their rent by keeping the vineyards and orchards clear of snugs and snails during their morning grazing with the duck herder.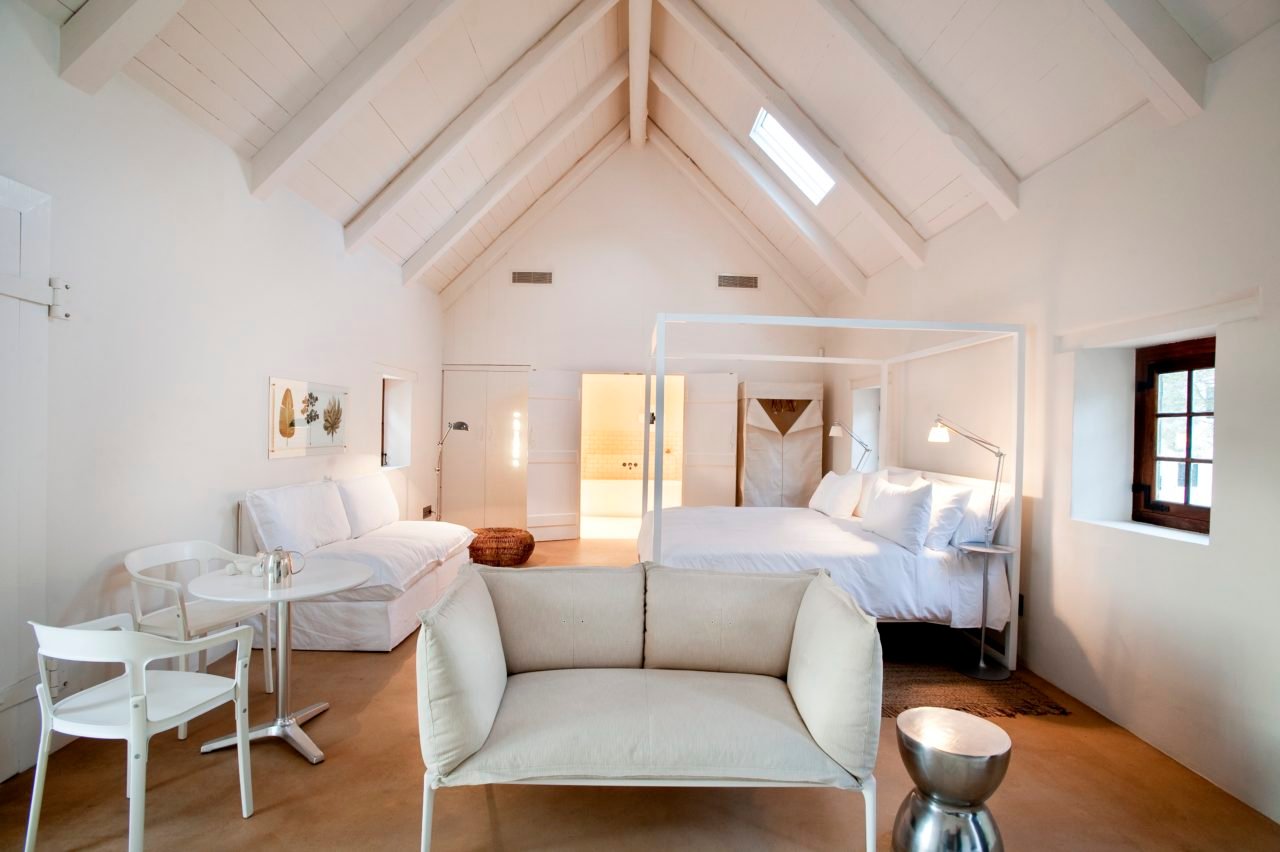 The self-sufficient principles of Roos didn't halt at food and wine. Hospitality in the form of converted labourer's cottages has been available since 2010, with Farm House and Manor House (1777) options providing a range of accommodation options that cater to couples and groups. All finishes verge on modernist, carefully navigating the realm of rustic chic.
The Garden Spa near to the Cottages matches accommodations with a broad and unusual selection of spa treatments. A private hammam water ritual can be organised in the spa's marble hammam, with scrub, dynamic stretching and massage all part of the package. Others might opt for the deep-tissue bamboo massage and find time to relax and work on breathing in the salt sauna. Alongside Babylonstoren honey and natural salt, two natural product ranges form the spa's supply – Dr. Hauschka from Germany and Esse from South Africa.
Training Notes
Visitors to Babylonstoren will also note the extensive grounds surrounding the main hub and hospitality area. Outside the garden walls, renowned trees such as Napoleon's willow and indigenous wild olives can be found. Mountain bikes are available for exploring the further reaches of the property, with gravel trails also navigable for road cyclists trying to make it to roads beyond the estate's exit, or runners looking to complete workouts on flat ground beyond the traffic of the highway.
On extra hot days or for more controlled training, a gym with treadmill and free weights can be found next to the spa. Private yoga classes can also be arranged with 24 hours of notice.
Head to babylonstoren.com for bookings and more information.