Art & Conservation at The Chinati Foundation, Marfa, Texas
Will Ross, May 30, 2018
Within the broad geography of West Texas, the town of Marfa is a tiny dot, occupying just a few blocks of low-slung, whitewash buildings where a permanent population of just over 2000 people call their home. Yet Marfa's occupation by artists has defined its maturity over the past few decades, ever since New Yorker Donald Judd started to install permanent collections from the 1970s. The Texan town now receives over 40,000 tourists per year, convicted souls usually taking the 3-hour drive south from El Paso to observe a space and area of specificity that remains so well conserved since Judd's death in 1994.
As for location, Marfa sits roughly 70 miles south of the Interstate 10, 60 miles from the border with Mexico. Its location in the dry Chihuahuan Desert landscape is mirrored by broad skies, two characteristics that made it fitting for Judd when it come to displaying art. During his lifetime, Judd was active in ensuring the preservation of the land and its architecture, a combination of American West crossroads and military barracks, found less than one mile from the town hall. These latter efforts in restoration eventually resulted in the creation of The Chinati Foundation and the beginning of a legacy of care that remains in place today.
Judd's passion for sculpture extended to implicate the land's management, leading to the conclusion that art should be made for a set location and, if possible, never moved. Writing in The Chinati Foundation's formative document, he notes:
It takes a great deal of time and thought to install work carefully. This should not always be thrown away. Most art is fragile and some should be placed and never moved again. Somewhere a portion of contemporary art has to exist as an example of what the art and its context were meant to be. Somewhere, just as the platinum-iridium meter guarantees the tape measure, a strict measure must exist for the art of this time and place.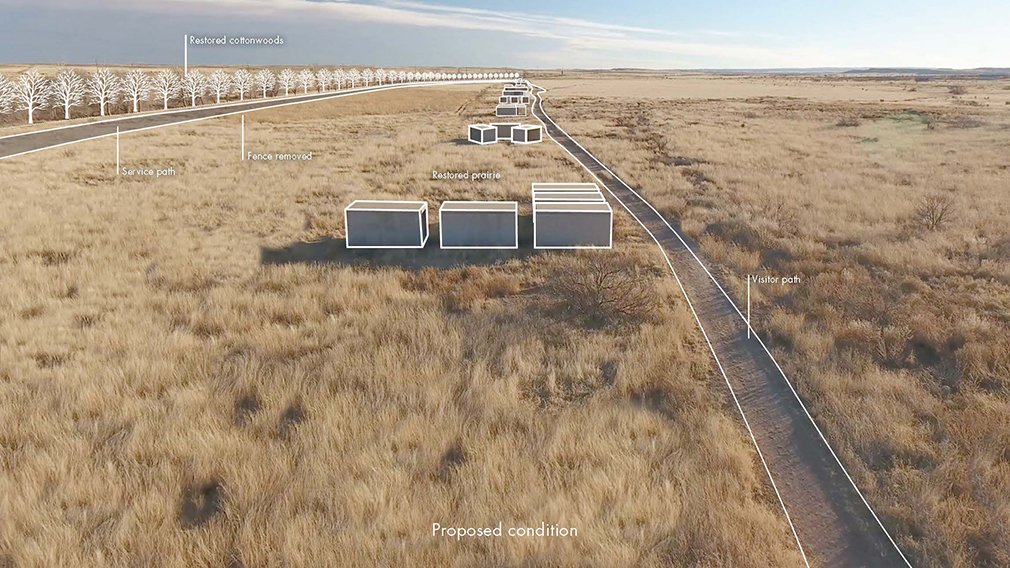 In total, Chinati occupies 340 acres of land on the site of the former Fort D. A. Russell, developed from 1979 and opened in 1986 with the primary purpose of displaying large sculpture. Early on, Judd found space for substantial installations from John Chamberlain and Dan Flavin, two artists that were already in place in his bedroom on Spring Street in Manhattan. As for his own contributions, Judd included free standing works in concrete, an outdoor piece featured in the header image above, and 100 works in mill aluminum, housed in two converted artillery sheds (image below).
Conscious of the dynamic condition of the site, The Chinati Foundation is now active in pursuing its conservation master plan, developed by Sasaki with the help of Austin-based Ladybird Johnson Wildflower Center during 2017. As a central focus, the plan attempts to balance the need to maintain Judd's intention for the land with the constraints of the natural ecosystem that populate their corner of the Chihuahuan Desert.
A significant portion of the property includes a prairie surrounding the free standing works in concrete, degraded by construction and visitor access to reveal eroded bare soil and the arrival of pioneer species. Periodic patrol and spot treatment have been included in the plan, laborious work which will be matched by the reseeding of mid-sized grasses, currently found on the former fort's grounds. Brush management has been activated to limit encroaching woody plants, particularly the whitehorn acacia (Vachellia constricta), so ensuring that brush cover is kept below 20% of the entire site. Chinati's plan claims that this amount of cover allows for new prairie growth while providing sufficient habitat for wildlife.
Judd's sensitivity for place included the planting of some typical desert species, though unfortunately some have since succumbed to the region's harsh ecology. At the fort's Arena building, used as a gym from the 1930s, Judd planted a grid of 12 pinyon pine trees on the east side of the building, but only six remain. To the east of his kilometre strip of concrete installations, Judd again planted a row of cottonwoods on a small creek which has since proved to have insufficient water, leading to the poor health and death of a number of the trees. Though the original cottonwoods were native to North America, the species type were not adapted to the region. Replacing the existing cottonwoods with the more resilient Rio Grande cottonwood (Populus deltoides ssp. wislizeni) is planned, with placement guided by better access to the creek and its groundwater. More enduring is the grid of sotols planted by Judd at the John Chamberlain Building, with some of the plants now reaching maturity.
Since the land surrounding Chinati is susceptible to wildfires, controlled burning has been recommended within the master plan, in turn helping to limit invasive species and encourage plant diversity. Three zoning areas have been prescribed to a) clear around buildings, b) buffer along roadways and paths as well as c) ensure a spacing or "dripline" between trees in the internal courtyard of the barracks. The courtyard is an unusual takeover, as Marianne Stockebrand notes in her commentary on Judd's vision, "long since run wild and overgrown with dry grass. The gentle rustle of the dry grass is everywhere, accompanying visitors as they wander around the former classrooms and read texts."
Another remaining task for The Chinati Foundation include the management of waste disposal from construction, debris left on site during the fort's major updates in the 1970s. Ensuring the continued control of the land and its annual footfall is no doubt vital to maintaining natural habitat as well as built facilities. Yet despite any federal cutbacks to conservation, Chinati's future is secure and upheld by an American artistic heritage that will soon pass its half century.
Notes
Chinati: The Vision of Donald Judd (ed. Marianne Stockebrand) includes 149 color and 71 black-and-white illustrations.
Donald Judd Writings (Judd Foundation / David Zwirner Books: 2006) is the latest and most comprehensive collection of Judd's critical writing.
2017 Newsletter (PDF)
Local conservation organisations include Big Bend Conservation Alliance and Chihuahuan Desert Nature Center.
If you're visiting Marfa, look to stay in a tent at El Cosmico, which is one of the more environmentally sensitive and certainly stunning accommodation options in town.
Credits
Header image: Donald Judd, 15 untitled works in concrete, 1980-1984. Permanent collection, the Chinati Foundation, Marfa, Texas. Photo by Douglas Tuck, courtesy of the Chinati Foundation. Donald Judd Art © 2017 Judd Foundation / Artists Rights Society (ARS), New York.