A few summers ago I ventured with my two buddies Marc and Ed to one of the most barren and northern parts of Europe, Sørøya in northern Norway. We had decided that we wanted to take a trip to a remote part of the world where there was little between you and the elements. We settled for Sørøya, an island off Norway. During our two-week visit, we spent half our time hiking through the stunning mountains and the other half testing our skills with fishing rods, pulling up some monsters from the Arctic Sea.
After reaching the small town of Hasvik on the island we met up with our man on the ground, the awesome Ørnulf Jacobsen (contact him: oejacobs@online.no), from whom we rented the fishing boat for the second half of our trip, gleaning some invaluable advice and fishing hotspots at the same time. These we marked on the map of the island, which can be purchased from the local shop on Hasvik.
We left from Hasvik for the wilderness the following week, carrying sufficient food supplies for the duration of the trip.  We also brought numerous fishing rods, both spinners and fly, with aspirations to add a little variety to our otherwise boring meal plan. The island is covered with lakes full of fish and we managed to catch a large amount of fish every day, often brown trout which makes up much of the sea population there.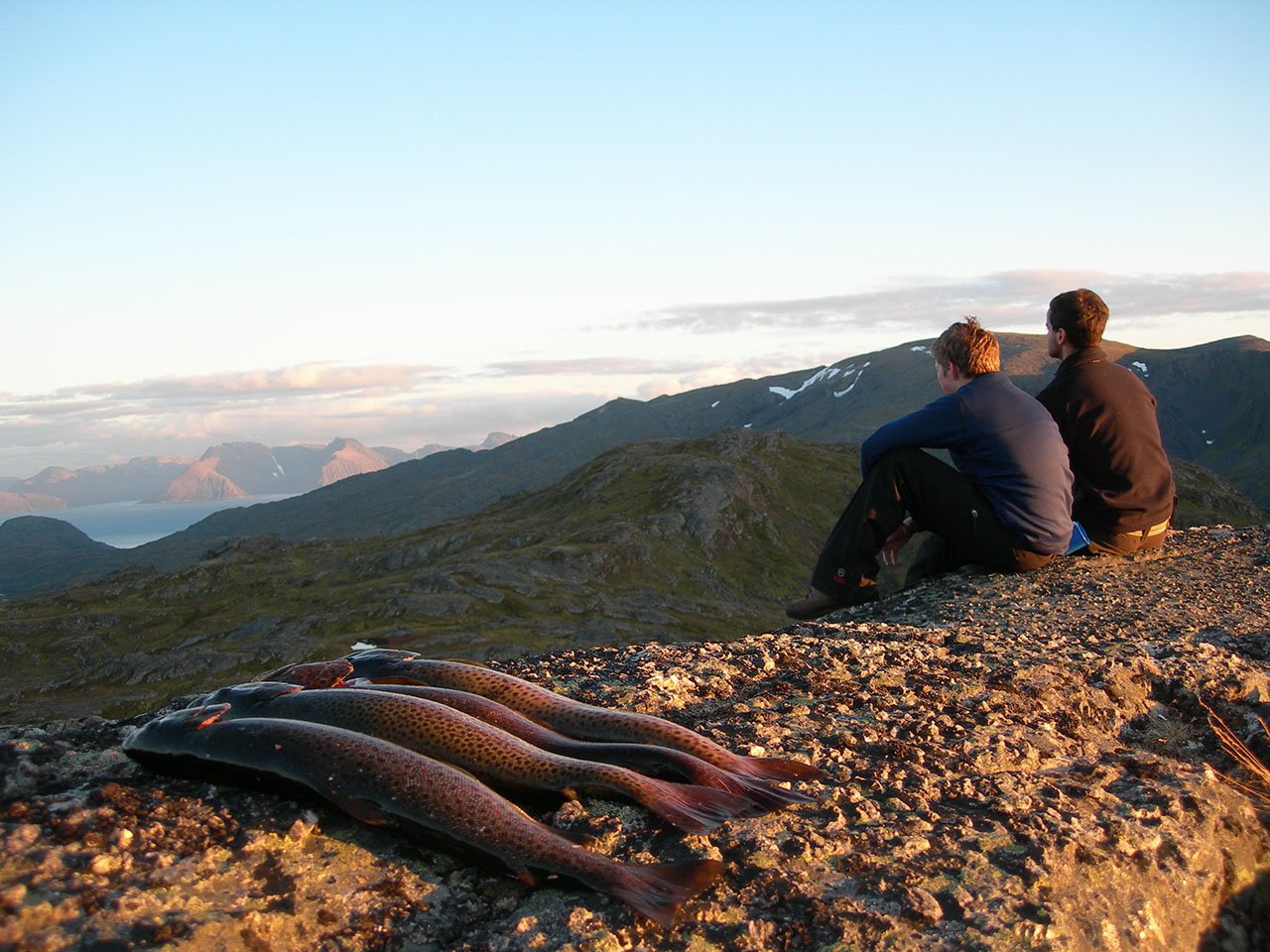 Apart from our rods we brought raingear, a three-season tent, three sleeping bags and a stove with fuel. It turned out that on three of the nights we didn't need to set up our tent, instead opting to sleep in the free camping huts that we came across on the way. They are relatively basic but provide good warmth and waterproof shelter, a fact that was brought to the test in our final two days in the mountains.
Our days on Søroya were spent crossing rivers, scrambling  up and down mountains, fishing in the lakes and just generally enjoying the amazing landscape which we had all to ourselves; we encountered only a handful of other hikers throughout our entire trip. Søroya is approximately 70 degrees north so the summer days are long, making cooking and tenting easy and of course great days on foot; we tended to hike for 6-7 hours a day, trying to start early in the morning in order to set up camp by early afternoon. This then enabled us to explore our surroundings without our heavy packs or alternatively travel to a nearby lake for some evening fishing.
The summer or spring is the best time to do this trip as autumn and winter offer few hours of daylight and soon after September the temperature begins to fall rapidly. We were there in late August and the nights were cold (temperature falling to around 3°C) a three season sleeping bag protects you from the cold, but a down jacket is an advisable piece of kit for the evenings.
Getting to Sørøya
Although remote, Norway's excellent public transport network does reach as far as Sørøya.  From Alta Airport we bought a student bus ticket to Øksfjord with Boreal Transplant, from where we caught a ferry to Hasvik on the island of Sørøya. Overall if done efficiently the journey can be done door-to-door in 12 hours. Total travel costs came to £260 including trains to Gatwick, flights to Alta, bus and ferry.