Arc'teryx Cierzo 25 Pack
Dan Keller, June 19, 2011
Weighing in a just 415 grammes, the Cierzo 25 Litre backpack from Arc'teryx builds upon the brand's performance focus in an ultra minimalist design that takes lightweight to a new level. Despite its stripped down features, the Cierzo buckles, zips and tightens enabling an exact management of the pack's volume and a streamlined efficiency for daytrippers and disciplined weekenders.
The Cierzo has only a handful of moving units – a scarcity that speaks more of sensible manufacturing than of an accessory weak on features. The one zipped compartment at the top of the bag includes an internal key clip and provides enough space for essentials (I packed mine full with three Mule Bars, a 500ml bottle of water, a compact camera, wallet and iPhone), and inverts to swallow the pack if you want to stow it away in a larger case. Meanwhile the main internal compartment is roomy and, due to the flexible material in the interior, fills more like a plastic supermarket bag than a rigid backpack.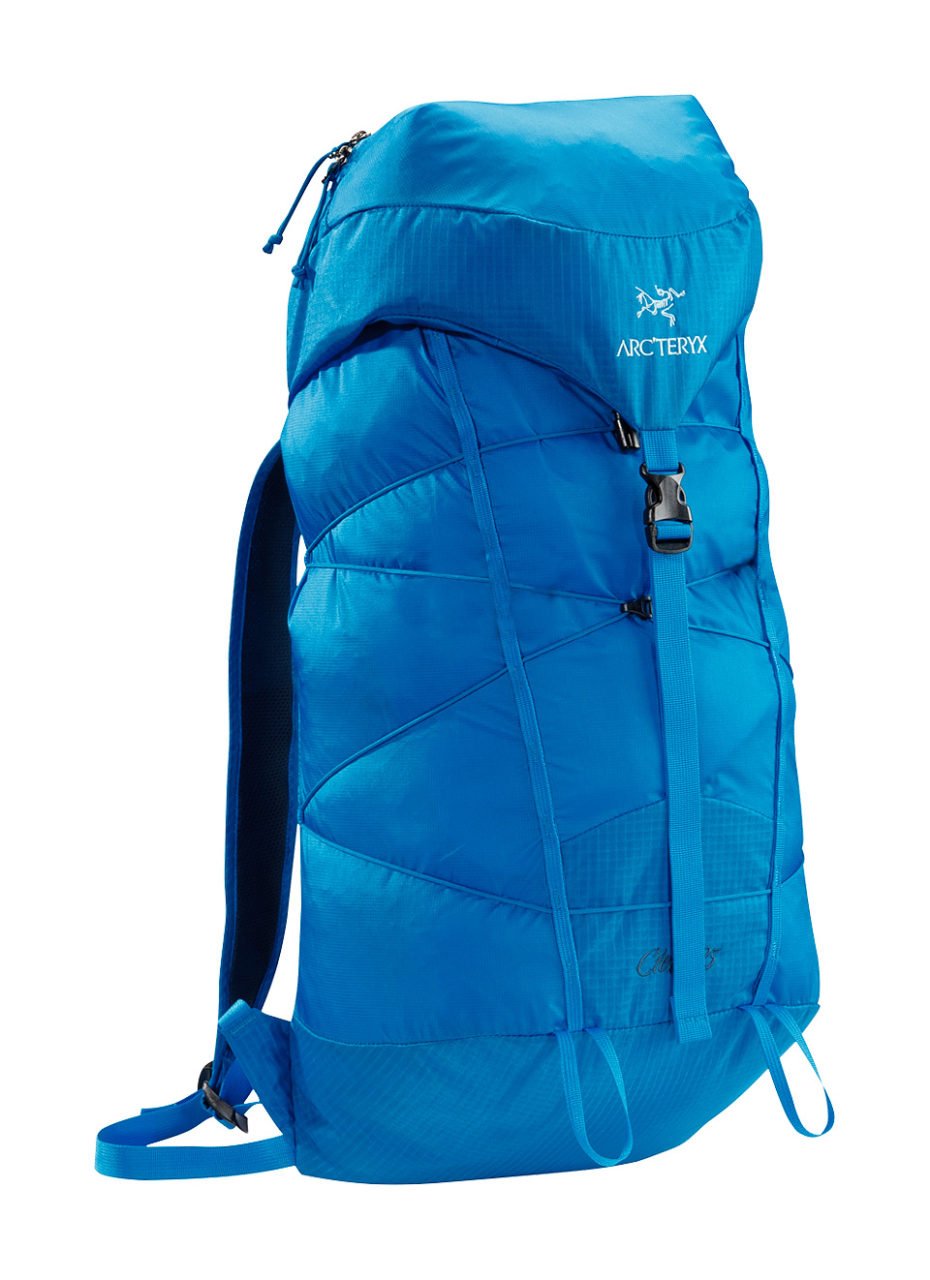 With such a lightweight and minimalist character Arc'teryx have done well to match the Cierzo's daypacker function with highly compressible features, ensuring that smaller loads can be squashed tight on shorter trips. To compress the main cavity of the Cierzo, the drawcord works to contain the load, whilst one north-south buckle tightens the lid down to the main body to reduce vertical volume. What I was really impressed by was the strength of the buckle, even when I tugged hard to decrease the pack's volume to secure a helmet beneath the lid of the bag. Also, for quick unpacking and retightening, the buckle lengthens and shortens easily.
As for exterior storage, the pack has two ice pick loops and elastic cords that act as a webbing against the packs Invista shell. Ostensibly a climbing product, the Cierzo's exterior storage provides perfect room for awkward-to-pack items, or items that need to be accessed quickly. Daisy chains and two velcro loops can be utilised efficiently with carabiners, providing a neat and isolated part of the bag for ropes and other trickier-to-pack items.
Coming in at £60 the Cierzo 25 isn't priced harshly given its very specific potential in any summer adventure short of a long weekend; able to adjust to smaller and slightly bigger loads, the Cierzo works outstandingly well as a short-haul must-have. The self-packability of the whole pack is also delightful – a new feature that mirrors the growing demands of adventure travellers to pack for any eventuality.
Seek out your local Arc'teryx dealer and have a leaf through the environmental efforts of the Vancourites.