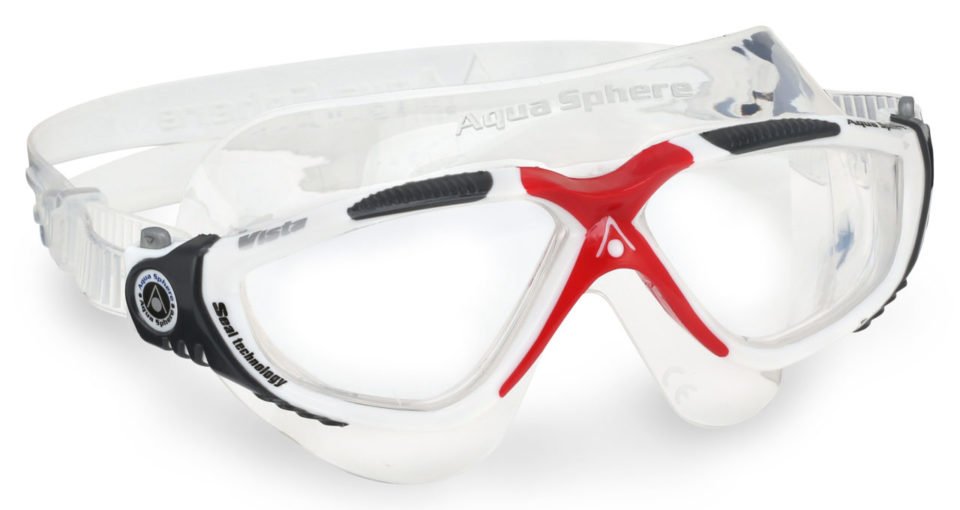 Promoted primarily by the growth of triathlon, open water swimming's reputation is rapidly being revitalised. Endowed with fresh water lakes, rivers and temperate coastal waters, the UK is perhaps the best starting point for the sport's rebirth. Romantic and natural, open water swimming benefits from the lack of gear and an unrivalled connection with a novel environment. It's fair to say therefore that any true Brit must own a pair of swimming goggles specific to swimming in nation's waterways.
One brand that focuses specifically on swimming gear is Aqua Sphere, a good starting point for products designed first and foremost for serious swimmers. Their wide-angle swimming goggles are relevant to open water swimmers. I've been testing the Vista in the Great Swim Series – here's what I thought.
Trying the Vista for the first time at the Great East Swim in Suffolk last weekend, I found that they provided me with unhindered vision even in the heat of battle against hundreds of other swimmers. Clarity comes primarily from the larger size of the goggle frame and lens. Unlike indoor swimming goggles that fit closely around the eye, significantly limiting your vision, the Vista frame sit much further from your eyes providing excellent 180º vision, which is especially useful when swimming in close proximity to others with no lanes!
In terms of fit, the Vista's frame size works to reduce pressure on the skin by providing a greater surface area of contact. Whereas conventional goggles need to be relatively tighter on the face to ensure a similar seal, the Vista's frame size creates a solid seal even when applied to a moderate tightness – a simple bit of physics but something that really counts on long swims. What's more, the Vista includes Aqua Sphere's patented Quickfit One Touch strap adjustment technology, which can even be operated easily when treading water.
The leak-resistant silicone skirt is particularly enduring, maintaining a good level of suction for my mile-long swim ,much like the design of a traditional snorkel for divers. As well as being fog and scratch-proof the lenses in the goggles are also UVA and UVB protective, again key for long stint in the water to reduce the impact of refracted and direct sunlight on your eyes.
In short, I have nothing bad to say about this product. I was especially impressed when, in the initial stages of the race last weekend, I received a kick to the face and not only did the goggles prove their durability but they also managed to stay firmly on my face. I would recommend these goggles to any level of swimmer, and especially to those who could benefit from increased vision and that added level of comfort that clarity provides in the water beneath the surface and during brief glances.
For more information, visit aquasphereswim.com.