A Munro Epic: Glen Shiel, Glen Dessarry and Knoydart
Alex Daffern, September 13, 2015
Sunday 5 July – Gairich: Starting at the dam on Loch Quoich, this independent Munro was reached in just over two hours, the first hour of which was constant boggy ground. But in good weather, I was able to see north to the three Munros I had climbed two days before, a satisfying feeling.
Monday 6 July – Beinn Fhada, A Ghlas-Beinn: This day had an approach which made me think vaguely of something from the first Jurassic Park film. A long approach to Beinn Fhada, which gave great views of peaks already summited around Loch Cluanie and Glen Affric, was followed by a teasing and thirsty ascent of A Ghlas-Beinn, on which three times I thought I had genuinely made the summit before seeing another stretch of climbing upon reaching each disappointing step.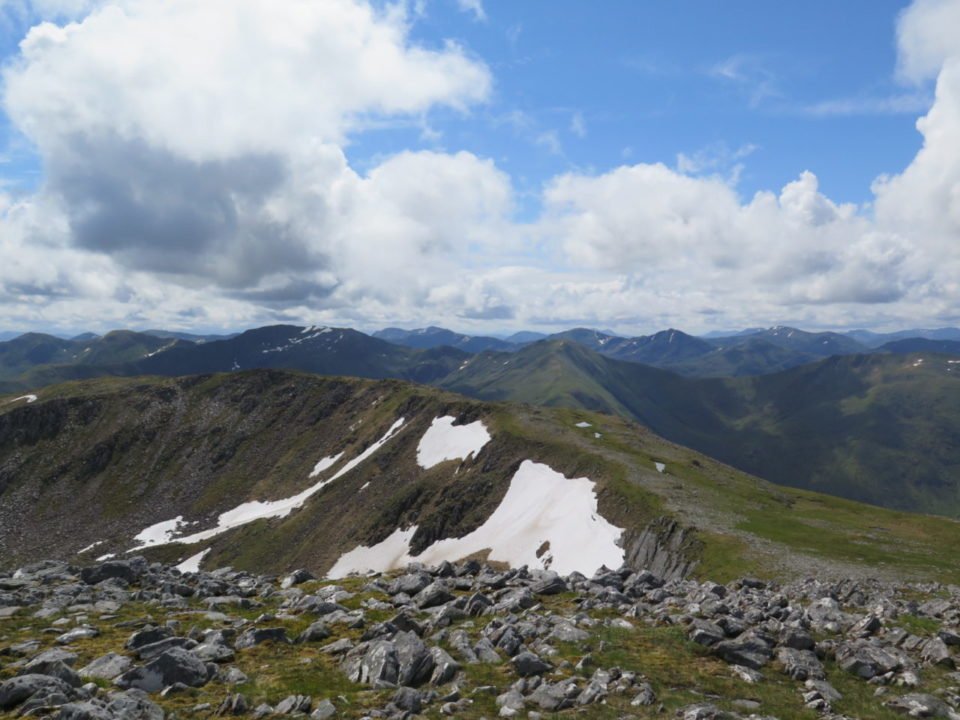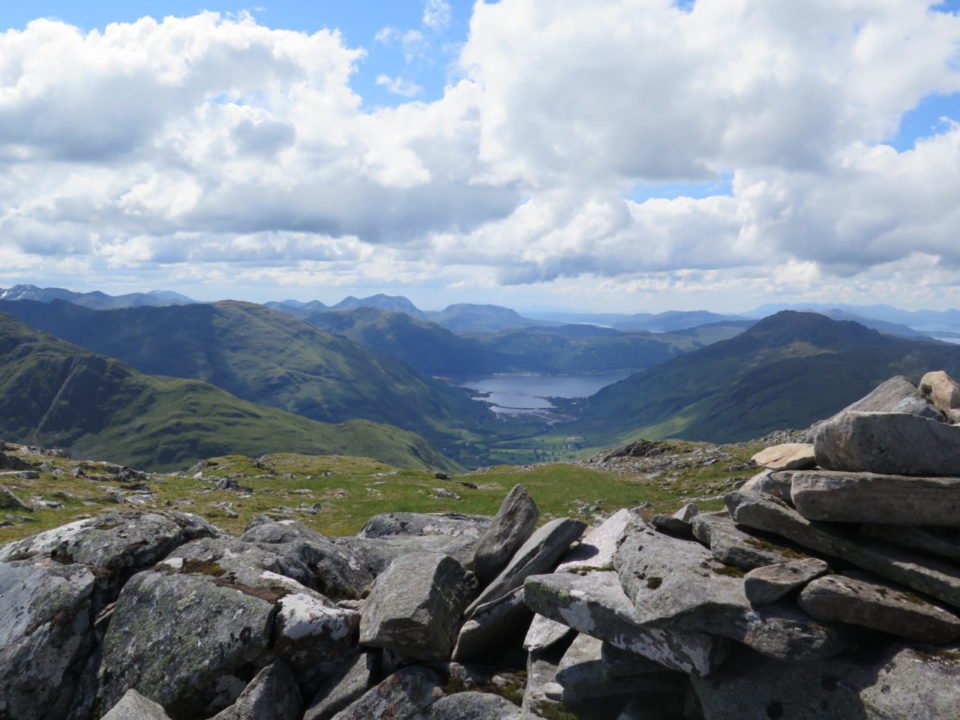 Tuesday 7 July – The Saddle, Sgurr na Sgine: A day of low cloud, cold and wet. The Saddle, I am sure, would have rated as one of my favourites of the summer had I been climbing in good conditions, with a good mix of terrain on the ascent. But without a much visibility all day, the view could only be imagined.
Wednesday 8 July – Aonach Meadhoin, Sgurr a'Bealaich, Saileag, Sgurr na Ciste Duibhe, Sgurr na Carnach, Sgurr Fhuaran:
Thursday 9 July – Creag nan Damh, Sgurr an Lochain, Sgurr an Doire Leathain, Maol Chinn-Dearg, Aonach air Chrith, Druim Shionnach, Creag a Mhaim:
These two days (8th and 9th July) entailed a committing undertaking. I had my tent set up at the Shiel Bridge campsite. My plan was to drive to Cluanie Inn, leave my car in the walkers' car park opposite, walk the north ridge from East to West (this included six Munros making up the 3 Brothers and the 5 Sisters of Kintail, two peaks of which are not Munros, but I included for the sake of completeness) back to the tent. The next day I would walk the length of the South ridge from West to East (this included over an hour's walk along the main road before any ascent, and then 7 Munros, before reaching Cluanie Inn for a well-earned dinner and returning to my car to drive back to the tent at Shiel Birdge campsite. Thankfully, apart from a brief snow shower on the Wednesday, I had some very good conditions for two big days.
Friday 10 July – rest day – Having climbed 13 Munros in the previous two days I rewarded myself with a relaxed, big breakfast at Spean Bridge in the Great Glen Café.
Saturday 11 July – Sgurr Mor, Sgurr nan Coireachan (north), Gharbh Chioch Mhor, Sgurr na Ciche: Beginning with a very rugged and boggy approach to Sgurr Mor, I took on a big day returning to the car at the end of Loch Arkaig at 9:45pm, having been rained on for 11 hours, and for another time completely drenched. From within two hour's reach of the car I had abandoned any attempts at damage limitation with respect to the wetness of my boots, and I was walking straight through overflowing burns, quite drained of energy, though still mustering the will to jog sections of the last couple of miles once back on a track. I had very early on in the day feared that I was not going to have a fond memory of the eastern Knoydarts; it had been a character-building day at best. I clearly looked quite dishevelled in the fading light, because upon reaching my car in the near dark, a couple who had spotted me, came out of their caravan in the rain to offer me a cup of tea before I set off. I was very tempted but given the time and an hour's drive on rough, windy roads back to the campsite I had to reluctantly decline.
Sunday 12 July – Recovery day – After a debilitating day, and with a less than promising forecast, I easily persuaded myself to enjoy the Wimbledon men's final from the comfort of the pub in Fort William.
Monday 13 July – Sgurr nan Coireachan (South), Sgurr Thuilm: It seemed another miserable day was on the cards. However, despite a drizzly ascent of the two Munros, the descent ushered on a lifting of the clouds to allow a view of the Glenfinnan viaduct from a distance.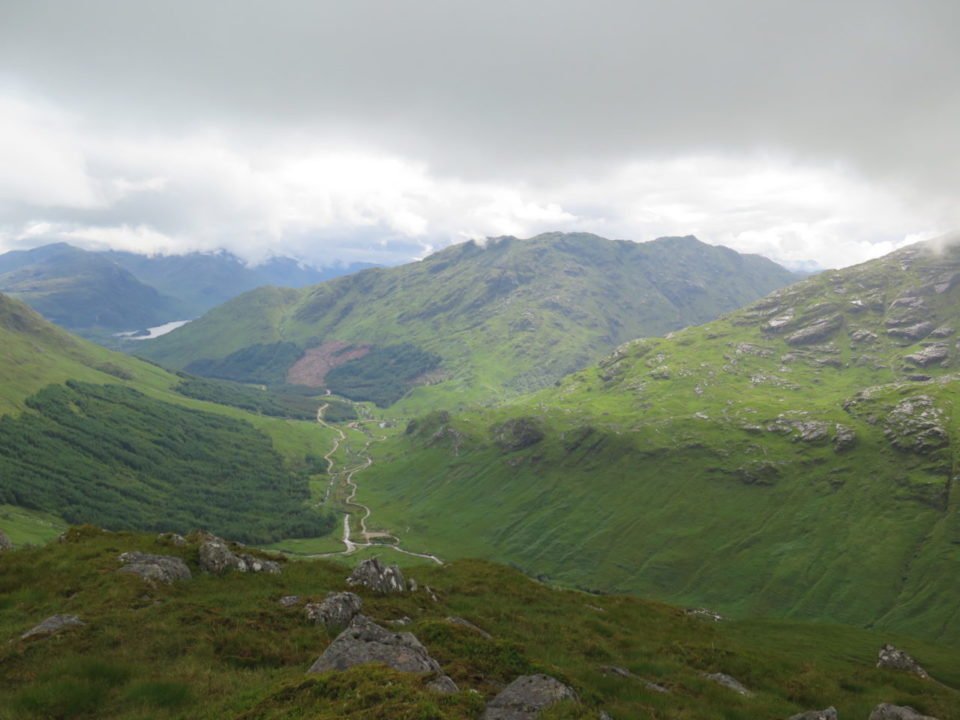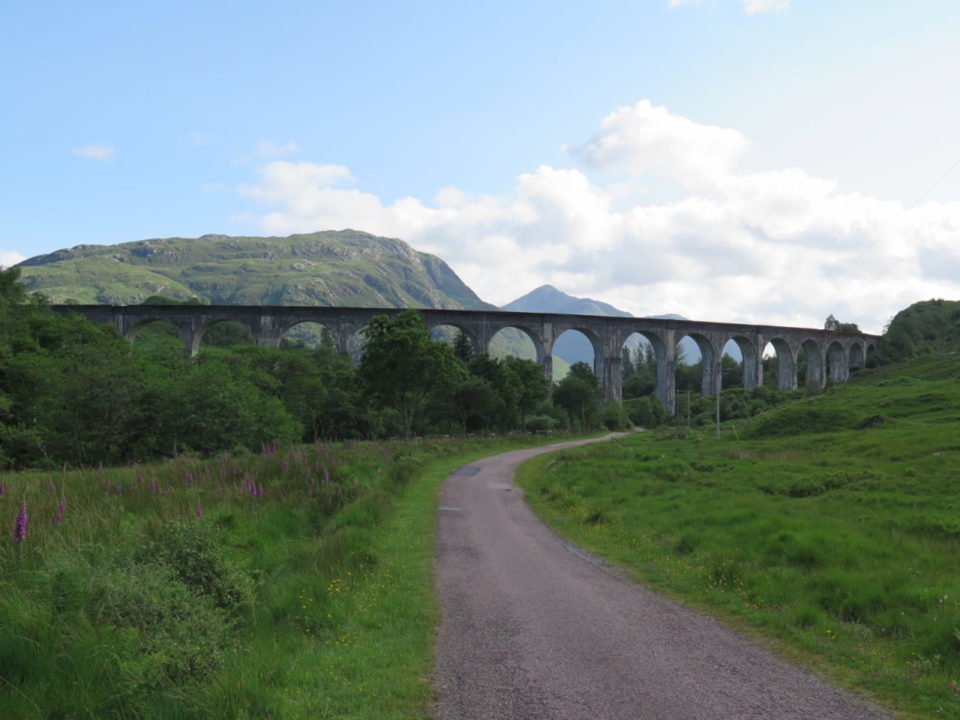 Tuesday 14 July – Gulvain: A long approach on good track, I was able to see the top all the way to the base of the Munro. However, upon reaching the top the cloud had descended and a view was not to be had.
Wednesday 15 July – Ladhar Beinn:
Thursday 16 July – Luinne Beinn, Meall Buidhe:
These three Munros on the Knoydart peninsula I wanted to make from Inverie a small place accessible only by ferry from Mallaig. Having missed the 11am sailing by 5 minutes, I could only wait in the sun in Mallaig with a beer until the 2:30pm sailing. I reached Inverie at 3pm and having set up my tent at the Long Beach campsite, with an unprecedented forecast of settled weather for two days, I set off for Ladhar Beinn at 3:45pm. I made the summit at 8:15pm and I was back to the tent for 10:25pm, having run much of the return, and having enjoyed possibly my favourite Munro so far.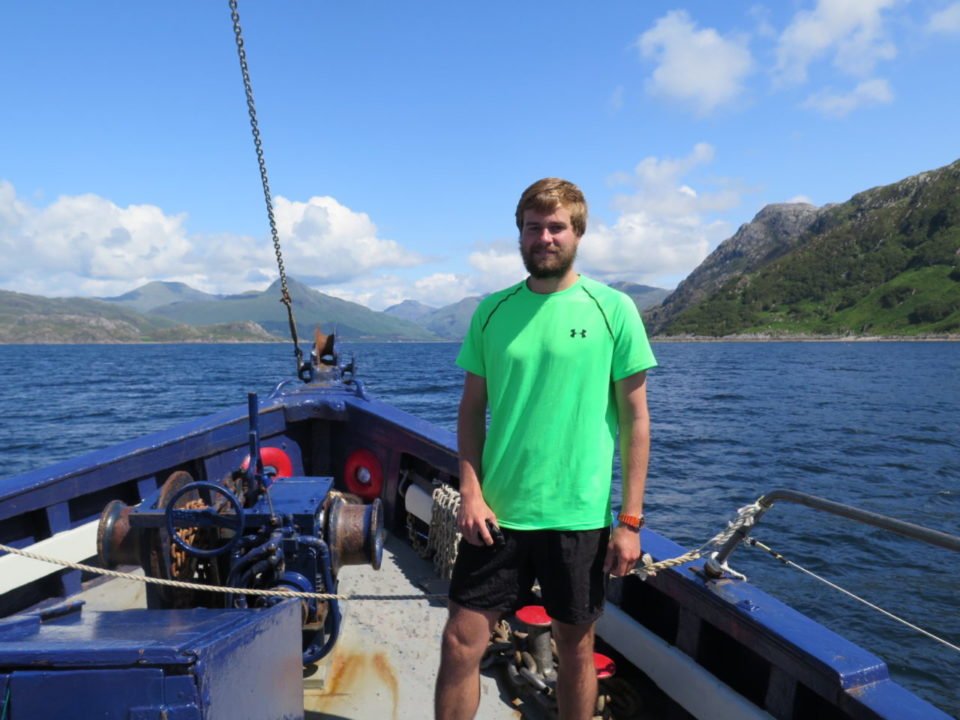 Looking from Ladhar Beinn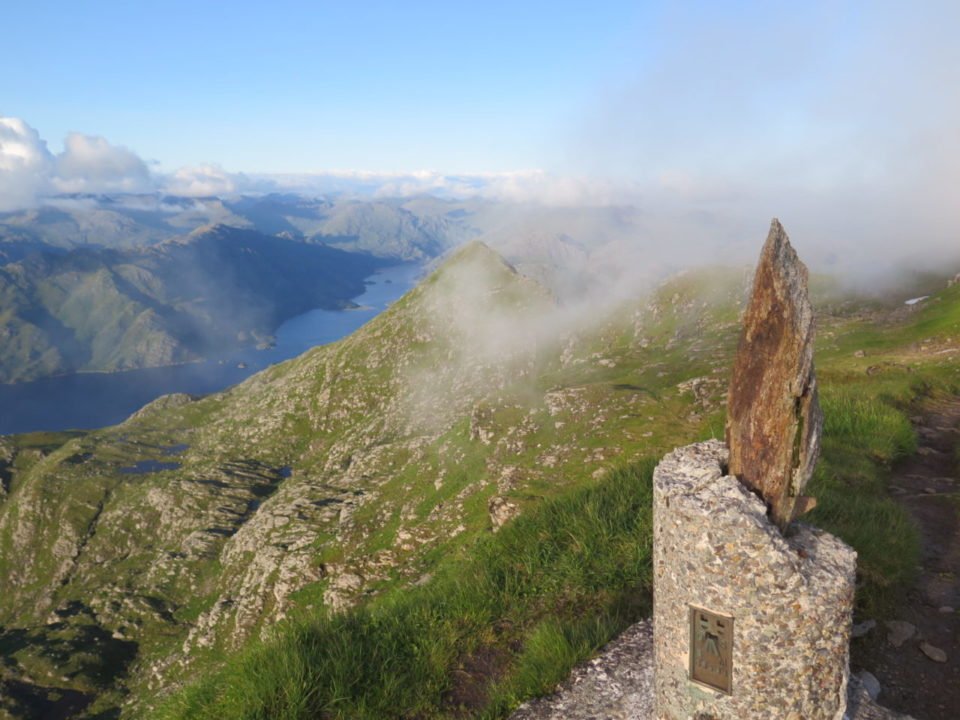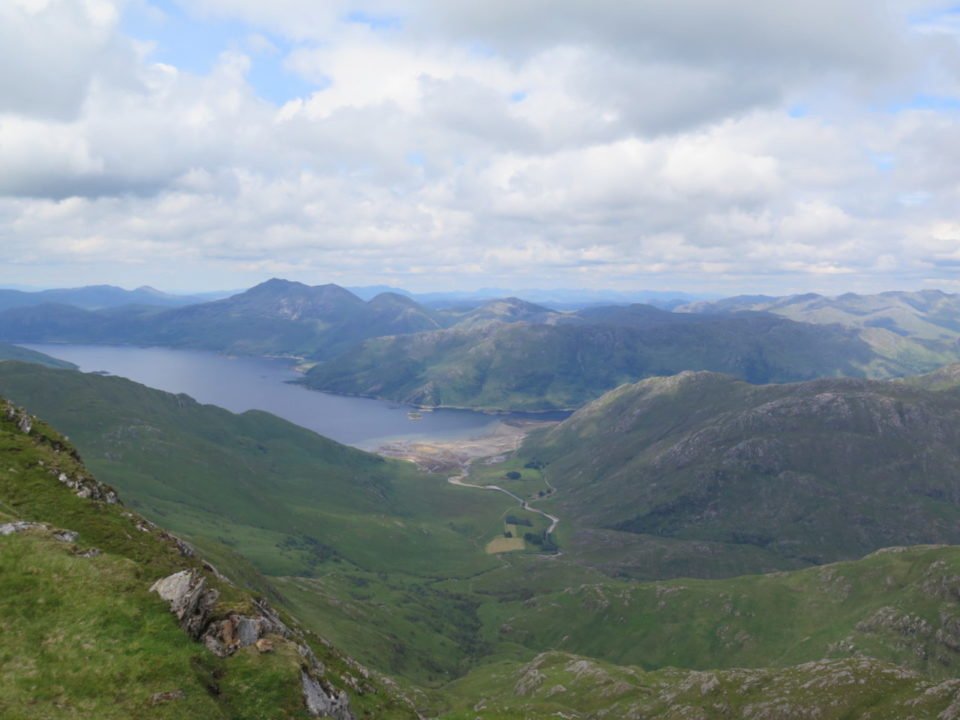 Friday 17 July – Ferry back to Mallaig and drive back to Fort William
Saturday 18 July – Drive to Rowardennan Lodge on Loch Lomond to meet my brother, Rob
Sunday 19 July – Ben Lomond: When Rob asked me afterwards how difficult Ben Lomond was, relative to the Munros I'd climbed so far, I said that it was possibly the easiest. Though, perhaps in hindsight, I would place it indiscriminately in the easiest 10. The path up is very well-engineered and it has been the most popular Munro I've climbed so far, meeting a near conveyor-belt of people on the descent, though there is still a significant ascent to reach the top.