Training Notes from Dutch Triathlete Richard Murray
Will Ross, April 26, 2023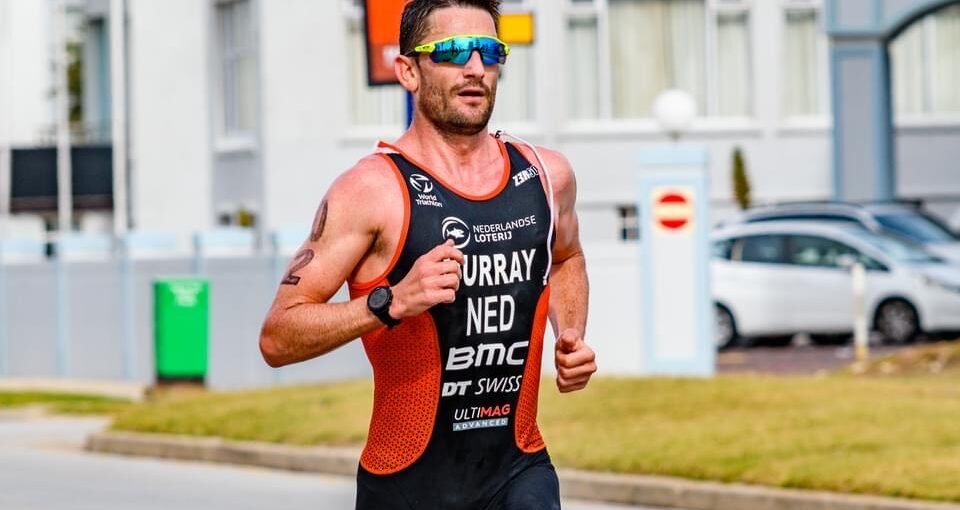 Richard Murray is a professional triathlete with impressive breadth. XTERRA races feature throughout his professional career, built on the foundation of three world championship claims in duathlon.
A strong run and unrelenting finish has Murray in contention in a sport that's now been found by triathletes strong enough to be professional in running alone. Following fourth in Rio 2016, and a setback in Tokyo where injury and a cancelled relay for South Africa, Murray now competes for the Netherlands.
Here is an outline to Murray's approach to training and the detail that's kept him performing throughout over a dozen seasons.
Where do you usually train?
Mostly in Durbanville (South Africa), Overijssel (Netherlands) or Windhoek (Namibia).
How important is location for your training- access to terrain or facilities?
My wife, Rachel Klamer, and I find location vital to training. We enjoy a warm climate – great for training, motivation and a good even tan overall :). Good facilities are also a nice have but not the be all and end all. We are lucky to use Virgin Active gyms in South Africa as well as Namibia where we usually swim and do gym. The roads for cycling running are good in all the three locations where we train.
What does a typical week look like when you're at your home base?
Usually around 20-25 hours of training each week. Monday and Friday are rest days, with a three-day block Tuesday to Thursday and a two-day block Saturday and Sunday. We swim around 20-25km in the pool, cycle 250-400km and run 45-75km per week. It's quite busy and we do enjoy our rest days when they come.
What kind of training do you do when you're short of time?
Generally our days are planned around training, so we always have time to train – pro lifestyle! If we are short on time, a run would be first as it is the quickest use of time, then a bike, and a swim would be last as takes around 2-3 hours usually to get a swim in.
Do you mainly train alone or with other people or groups?
We mainly train alone, Rachel and I. This season we are looking to train more with others and to learn more during the year. After all sport is meant to be fun :).
How does your winter training differ from your summer training?
We take a break over winter for around 2-3 weeks depending on how long the season goes. We do more running in winter in Europe if it's wet and cold, and if we are in South Africa for their summer, then mountain biking is a main course. We try to spend one EU winter in South Africa and the following year in Netherlands so we have a good family balance. Usually we build the load from late-November until start of January, so not too crazy the first few weeks.
How has your training evolved in the course of your career?
When I was younger, there were not even cell phones or Strava so a lot has changed. I did have a coach but everything was far less technology driven and no Training Peaks were involved. Over the years technology has started to play a big role in my training but I am still a firm believer of feeling and RPE (Rate Perceived Exertion) for training. Also I have started to take on a bit more of a hand on to my training the older I have become.
How important is nutrition for you?
Nutrition is vital to my recover and training. If you put in rubbish you get out rubbish in the end! I use SIS (Science in Sport) in my training and for recovery too. I find their gels work well for me in racing as they are light on my stomach.
What are your nutrition secrets, recipes or snacks that everyone should think about using?
I'm not one to be crazy on my nutriton, but a healthy balanced diet of proteins carbs and plenty of vegetables and fruits is the way. A mixed diet is a good way forward for me and do believe the cleaner you eat the better you can train. Snacks – I do like peanuts and raisins as well as some rusks from time to time 🙂
What other parts of your work are important for your career, but aren't specifically to do with training? What is important "behind-the-scenes" work?
I think working together with sponsors is vital for any pro athlete. I've also spent some time lately coaching athletes which I really am enjoying. In the future, Rachel and I will start a coaching business – we really look forward to working with different types of athletes. It will be a mainly online coaching business, and in the later future we wish to set up a training facility in the Netherlands.
If you weren't a professional athlete, what would you be doing?
I'd be a coach or something connected to sports. I've been involved with sports since a young age and truly do love it. When I was younger, I wanted to study sport science, so perhaps a sport scientist would be my profession by now.
Follow Richard on Instagram via @rd_murray, and find him YouTube too