I used the MSR WindBurner Stove this summer 2015 in the Scottish highlands (some will ask 'What Summer?') in an attempt to summit as many Munros as possible over the space of three months.
This stove was my only cooking apparatus for meal times when I wasn't treating myself to the luxury of a hostel kitchen.
1. Size/Shape/Weight
The first point to note about the stove is its compact design. It is structured so that all its components, including the 4oz fuel canister by MSR can fit inside the stove itself (with the lid and water container attaching to the top and bottom respectively) for being conveniently packed into a day sack. This saved a lot of space and the lightweight materials used meant only a total of 432g to be carried.
No additional pans or pots are required for a basic meal for one. The stove itself can heat up to 1 litre of water, and the cup/container which attaches to the bottom of the stove when not being used can hold half a litre. This was very useful for porridge and tea in the mornings.
The handle, which is used once the contents of the stove have been heated, is very robust and does not affect the ability to easily pack the stove.
2. Performance in weather and speed of heating/speed of setting up
Certainly towards the beginning of the trip, May was still very cold. At just above freezing in light wind, the stove, which does not produce a standard flame, did not appear to be noticeably affected. Boiling ¾ litre of water took slightly over 2 minutes with the lid on. Setting up the stove can be done in a matter of seconds (usually <1 minute). Lighting the stove is as easy with a match as with a lighter.
Whilst I appreciate that cooking inside a tent is not advised, when the weather was particularly poor, I was able to more comfortably attempt to cook in the foyer of the tent, knowing that there is no open flame and the tripod support (which is supplied) is remarkably stable. Additionally, the boiling time of ¾ litre of water with no wind is less than 2 minutes.
3. Durability
I came across no faults or deterioration in the performance of the stove over the three months, despite being very tightly packed in my day sack for long periods of time and also consistent and regular use throughout the trip.
4. Range of cooking
Meals ranged from simply boiling water for tea and for freeze-dried meals and milk for porridge to more adventurous pasta and rice meals with sauces of vegetables, and dried meats.
Also, with a few visitors along the way, boiling enough pasta/rice for two people was possible, in one boil, with a bit of attention needed for stirring.
Milk and tomato-based sauces take very little time to come to the boil.
One difficulty was simmering having brought pasta or rice to the boil. However, simply turning off the gas after 3-4 minutes and waiting a little longer than regular hob timings seemed to work, since the stove itself managed to maintain its heat amazingly well.
5. Cleaning and Maintenance
Cleaning the stove is less easy the larger your hands are if there is no brush to hand, given the quite narrow nature of the stove. However, the metal of the stove is extremely durable and can take any amount of scouring abuse.
6. Fuel consumption/Fuel compatibility
Gas canisters lasted much longer than I expected. I tended to be very conservative with my use of fuel and when a 2-minute boil is possible my 4oz gas canister lasted me no less than two and a half weeks, cooking breakfast, dinner and two cups of tea per day. As mentioned above, it is possible for one 4-minute boil (+roughly 10-12minutes waiting time with the stove off) to cook standard pasta for one, making gas consumption minimal. Top up heating time was required towards the beginning of the trip when the weather was still quite wintery.
What should be noted is that when I initially went looking for MSR fuel canisters the retailers near me just west of London were low on stock, but other canisters fit the system just as well. However, when I asked Cotswold in Windsor for MSR fuel to be ordered in they were very quick and were able to provide more than enough for my three month trip.
Though, I'm not sure whether the efficiency of the fuel use changes with a different brand of fuel canister manufacturer, because the volumes of fuel contained are different.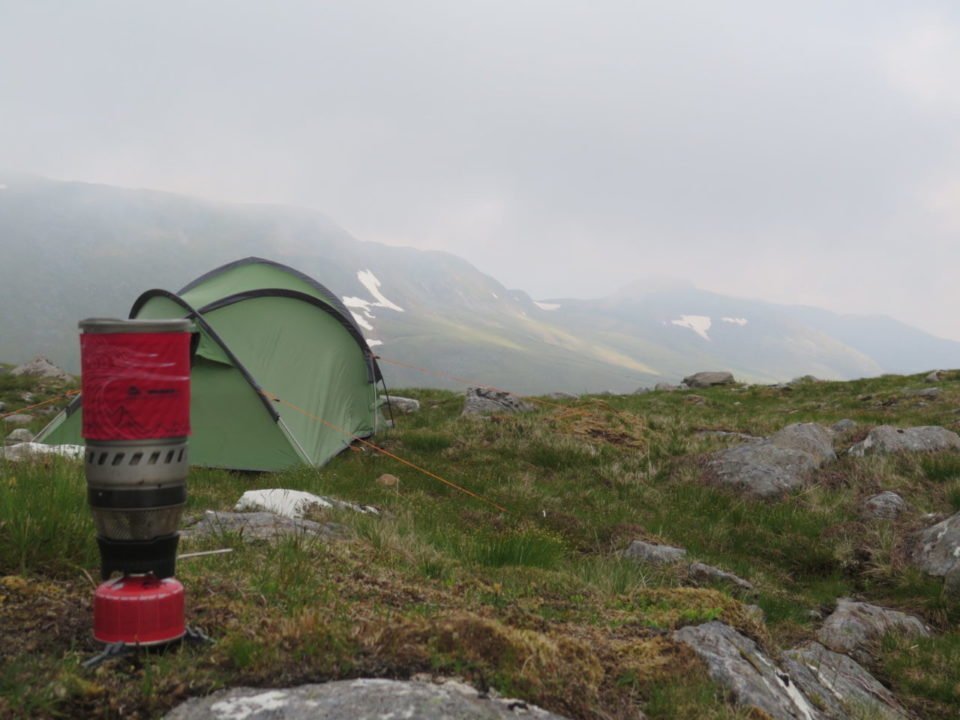 7. Safety
I never once burned myself on the stove. The metal heating element is well-protected by the exterior of the stove which insulates the heat generated. Once cooking is finished the heating element of the stove does cool quickly as well, reducing pack-up time.
As mentioned before the fact that no large flame is produced meant I felt more comfortable cooking in my tent.
Summary
Overall, I found this stove an excellent option for the solo traveller, in the outdoors for long periods of time and travelling light. It is also very well suited to adverse conditions being extremely durable and efficient, and whilst the Scottish summer may not have tested its capability in the worst of mountain situations, I would certainly make it my option for my future Scottish winter trips and any alpine mountaineering trips.